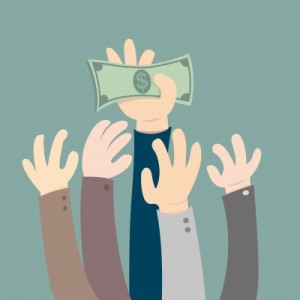 Have you ever considered entering a writing contest? I looked at several this year, especially ones with no entry fee. However, I never entered them because I paid careful attention to the terms and conditions, and I didn't like what I saw.
I didn't copy the terms of one, but I remember the gist. Basically, if you entered, even if you didn't win, you were agreeing that the contest organizers could, in perpetuity, submit your book to a library, with NO royalty paid to you. Granted, libraries aren't buying my books at the moment, but I didn't want to give up that right forever.
Another, I did copy. Read this:
Each Entrant hereby grants Sponsor the irrevocable, worldwide, royalty-free, fully transferable right and license to reprint, copy, transmit, display, reproduce, perform, use, create derivative works from, and exhibit any entry and/or materials and information submitted by such Entrant in connection with the Contest for any and all purposes in any medium.

With respect to any offer any Entrant or Winner receives from any third party to reprint, copy, transmit, display, reproduce, perform, use, creative derivative works from, and/or exhibit his or her entry, materials or information, Sponsor shall have a right of first refusal to engage Entrant or Winner at the same cost and on the same terms as the third-party offer. Entrant or Winner shall notify Sponsor and provide Sponsor a 10-day period for Sponsor to determine whether to accept the offer at the same cost or the same terms.
I ran this one past Kris Rusch to be certain I was reading it correctly, and she agreed I was. Basically, if you enter this contest,  you are not only granting them the rights to use the story, forever, without paying any royalty, you are also granting them first right of refusal anytime you want to publish, republish or create derivative works. Imagine having to check in with the contest organizers before submitting to an anthology or self-publishing the story. I think it could be argued that you'd have to check before writing a sequel–note the clause "create derivative works from." Oh, and did you notice that it applies to all entries, whether you win or not?
Here's what Kris had to say about such contests.,"It's pretty simple: Smart writers don't enter those contests. Period."
I knew that publishers were attempting to grab as many rights as possible for as long as possible, but I hadn't realized contests were doing the same thing.
As always, before you submit your work to anyone or anything, read all the fine print. If you aren't sure what it means, hire a lawyer to review and explain it. Your writing is your hard work. Don't sell or give away rights that you don't have to.
Image courtesy of kittijaroon at FreeDigitalPhotos.net