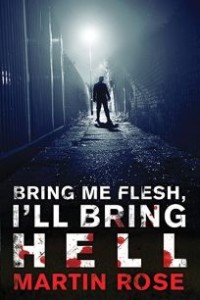 Goodness, Vitus has issues! That was the refrain running through my mind as I read Bring Me Flesh, I'll Bring Hell by Martin Rose.
Vitus Adamson is a zombie, but not your usual zombie. He was created as part of a government experiment gone bad, and unlike your usual zombie book, this one isn't about an apocolypse (or not exactly about one). He's a unique creature for most of the book. He's not brainless. Far from it; he's a private investigator, which makes the book an intriguing mash-up of horror and noir.
The plot starts when two clients show up, looking for their son, but the picture they hand Vitus is of the son he thought he lost when he became a zombie. As the book progresses, we learn more about Vitus, his family and how he became a zombie.
The horror in the book is more of the body horror type than the scare-you-into-keeping-the-lights-on type. I can't say I was ever spooked by the events of the book, but I will say that reading it while eating is not the best idea.
Vitus was an intriguing character. Bring Me Flesh isn't my usual reading fare, but I met Rose at a writer's convention, and I bought the book to support a fellow writer. That said, I was never bored and did not think about quitting. It held my attention all the way through, even though the writing was awkward at points. I did occasionally need to go back and re-read passages to make sure I understood what was being said.
There were some good twists and turns. Without spoiling anything, I will say I had one classic "never saw that coming!" moment. 🙂 The blend of horror and noir was handled well and makes this more than just "another zombie book."
The sequel, My Loaded Gun, My Lonely Heart, was released earlier this month, and I intend to purchase it as soon as I get my TBR list a bit more under control. Considering how Bring Me Flesh ended, I'm curious to see where Rose is going to take Vitus' story. I kind of  hope he gives the guy a break, but somehow I doubt it.